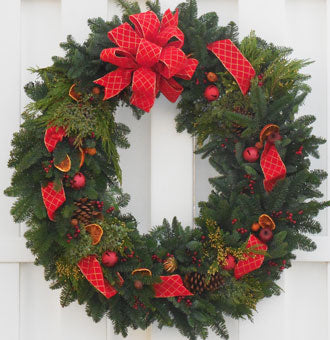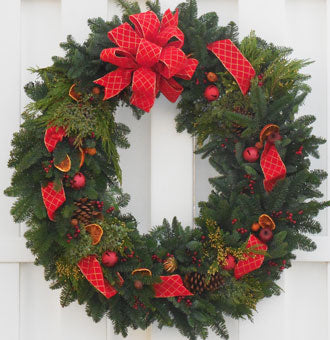 Large Christmas Wreath With Red Bow
Elegant large fresh Oregon noble fir Christmas wreath 38''- 42''. Sizes vary a bit because they are handmade. Arranged 6 Oregon Ponderosa pine cones, blue berry juniper, incense cedar, dried orange slices, bells and a few other dried items that are available. Red 16 loop french wired gold trimmed ribbon shown here. If you want this in direct weather please order the red outdoor ribbon. Gift boxed with a beautiful Pumpernickel Press gift card, with your personal message. Item Wr100A. Free ground shipping in the Cont. USA. Sorry, No Alaska and Hawaii shipping on this item. Comes in a corrugated wreath box.
Join Our Newsletter
Subscribe to Our mailing list to receive update on new arrivals, special offers and other discount information.